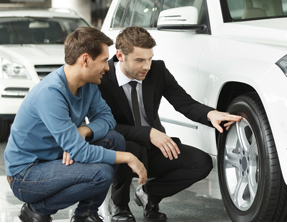 Car Sales Executive
Car Sales Executive
As a car sales executive, you will be working for a dealership that represents one or more major manufacturers.
Selling new cars, commercial vehicles and/or second-hand cars.
You may also work for one of several car supermarkets that sell cars from different manufacturers. You will be charged with the task of working with customers to understand their needs, guide them towards the most appropriate product and, finally, agree the sale to claim your commission.
Duties
A sales executive role will involve a range of duties. Included in your duties will be organising your diary and appointment systems. Also, guiding customers through the entire sales process, data capture, telephoning new and existing customers, and responsibility for the appearance and organisation of the site in which you work.
motortradecareers.com are the 'go to' recruitment business for all car sales positions