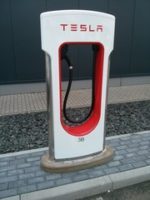 Tesla to close stores and move to online sales
Electric carmaker Tesla is to close stores and move to an online sales model only in a bid to cut costs.
The carmaker has started selling a version of its model 3 at $35,000 fulfilling a promise it made two years ago. In order to be able to do this it had to cut costs, hence the store closures.
Tesla CEO Elon Musk said store closures would deliver about 5% savings. He declined to say how many stores would close.
More details were available on a Tesla Blog, which said: "We are incredibly excited to announce that the standard Model 3, with 220 miles of range, a top speed of 130 mph and 0-60 mph acceleration of 5.6 seconds is now available at $35,000.
"To achieve these prices while remaining financially sustainable, Tesla is shifting sales worldwide to online only.
"Shifting all sales online, combined with other ongoing cost efficiencies, will enable us to lower all vehicle prices by about 6% on average, allowing us to achieve the $35,000 Model 3 price point earlier than we expected.
"Over the next few months, we will be winding down many of our stores, with a small number of stores in high-traffic locations remaining as galleries, showcases and Tesla information centers."
Tesla currently has 378 stores and service locations worldwide. In the UK it has stores in premier locations like Canary Wharf In London.
Tesla opened its first outlet in the UK in 2013 in the Westfield Shopping Centre in London's White City.